Andorra
Caldea
From the reception of the hotel you can buy Caldea tickets and all the treatments you want, and walk to the thermal center, since this is about 300 meters or 3 minutes on foot.
Call us by calling (00376) 803480 or send us an email: recepcio@hotel7claus.com.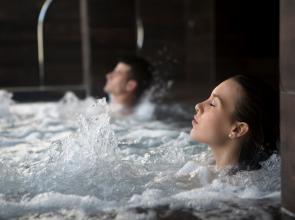 Caldea
Immerse yourself in the large lagoon and make an unforgettable tour through unique facilities, designed to put at your fingertips the properties of thermal water and enjoy in all its states, from steam to ice. Relax in the waters from the heart of the Pyrenees and enjoy the thermal hot tubs regenerating your body and your mind. Discover why in Caldea water is life.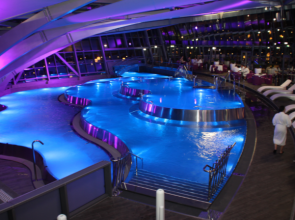 INÚU
Access to it is from Caldea, and from the very first moment, it opens its doors to your world of well-being. Personal attention from the moment of arrival, the loan of dressing-gown, towel and slippers, a welcoming milk shake…And, inside, elegant lagoons in which to enjoy the thermal water, exterior jacuzzi, saunas, steam-baths, hot-water beds and a spacious treatment area staffed by the best professionals.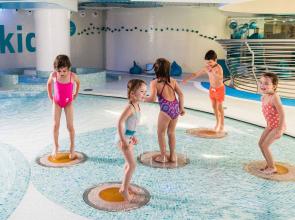 Likids
Likids is the spa that's exclusively for children aged between 3 and 8 years old. In this space, they can have fun while they learn through the many activities that are directed by our team of specialised monitors. And, while they are there, the little ones can also enjoy an introductory experience to well-being.